Engagement Ring Shopping Guide
Engagement Ring Shopping Guide
Rick's Jewelers can build custom made wedding bands to match the unique design of your engagement ring. You can be part of the process. This is a piece you will have a lifetime and we want you to we want you to cherish it from the first day, to forever!
Engagement Ring Shopping Guide
Long before couples stand before an officiant and say, "I do," many make another pledge to each other by getting engaged and agreeing to begin a new life together in St. Mary's County.
In a 2011 survey by from XO Group, Inc., formerly The Knot Inc., the average engagement ring costs Americans $5,200. Canadians spend around $5,000 as well. Considering an engagement ring is typically a once-in-a-lifetime purchase, many men say the high cost is warranted and are even willing to finance the purchase or push their budgets to procure a beautiful ring.
Many engagement rings feature a 1-carat center stone with some smaller stones surrounding, accounting for a 1.4 total carat weight on average. It can take a groom-to-be around three months to find his (and her) ideal ring, sometimes longer. Considering a ring is such a significant investment, it pays to have some knowledge in gem selection.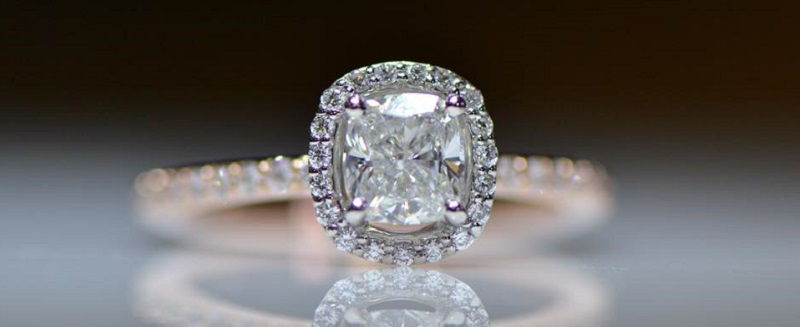 Start by Answering a Few Questions
Having an idea of what you want can help anyone get a better deal, whether one is shopping for a new sofa or an engagement ring. An informed shopper can avoid being taken advantage of or buying something that really isn't worth the asking price.
The 4 Cs is a good place for shoppers to get started. Various attributes affect the value, quality and beauty of a diamond. The 4 Cs stand for cut, color, clarity, and carat weight. The cut refers to the shape of the stone as well as the skill involved in achieving the shape of the facets so that it reflects the light brilliantly. The color is designated by the International Gemological Institute. The grading color in a diamond determines how closely a diamond's color approaches colorlessness.The diamond will be assigned a letter grade. The lower the letter in the alphabet, the whiter the stone. Clarity refers to the amount, size, type, and location of internal flaws in a diamond, also known as inclusions. The cost of the diamond increases when there are fewer inclusions in the stone. Finally, the carat weight is the size and weight of the stone. The larger the stone, the more pricey it can be.
Another question to ask is which style of ring your girlfriend prefers? Your fiancee-to-be may have a certain setting style and diamond shape preference. It pays to know what she wants, including the type of setting the stone will be encased in. You should also know whether she will be happy with a larger stone that may have some imperfections not easily seen to the naked eye or a smaller, flawless stone.
Know Your Budget
Many expenses are associated with planning a wedding, and some couples may not want to begin their lives together in debt. This may need to be factored in to the decision-making process. You should go to jewelry stores to price out different styles and see how diamonds compare. This way you will have an accurate idea of just how much rings cost.
Carefully consider your options. Having an intimate knowledge of what your girlfriend will want can help you to narrow down something that is reasonable.
It also pays to understand a jeweler's return policy. Even if you may know what she likes, in the event that the ring doesn't work out, find out if the style can be changed or if you can get a refund or make an exchange.